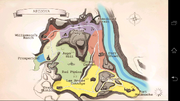 Arizona is the main setting of Six Guns. It is mostly a desert with some towns and a few forts, like Prosperidad, Fort Malanoche, Williamson's Ranch, and so on. The player starts at Williamson's Ranch, where he protects The Lady from Bandits. You must kill the Outlaws with fists, then you will be able to buy the Rusty Gun.
There are many areas in Arizona, they are:
Missions
Edit
There is loads of missions to do in Arizona:
Ad blocker interference detected!
Wikia is a free-to-use site that makes money from advertising. We have a modified experience for viewers using ad blockers

Wikia is not accessible if you've made further modifications. Remove the custom ad blocker rule(s) and the page will load as expected.