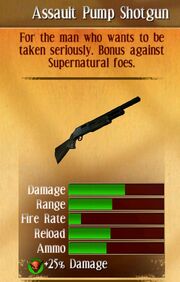 For the man who wants to be taken seriously. Bonus against Supernatural foes.

—In-game description
Assault Pump Shotgun
is a pump-action shotgun in
Six Guns
. It is unlocked at
level
18 and can be purchased for 25,000
coins
.
Statistics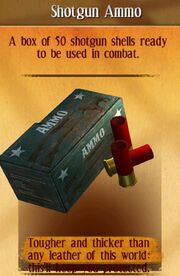 Damage: The best part of it, with damage that kills Nightwalkers in one hit if aimed right. Each bullet deals 4 HP if not upgraded, with about 8 bullets per shot. Can do up to 50 HP damage in 1 shot in multiplayer if aimed right. Of course, it should be upgraded in order to do more damage. Bonus 25% damage against Supernatural foes.
Range: As with all shotguns, range of this weapon is the worst factor. To attack a target and have all bullets hit the mark, one would have to stand meters away from it. This was increased in an update.
Fire Rate: The second worst part of it, but it is better than the Double-Barrel Shotgun, and with the damage, being surrounded isn't much of a problem. Fast if fully upgraded.
Reload: Relatively quick, but feels somewhat like a Burnside Carbine. Fast when fully upgraded.
Ammo: It starts off with four rounds, 14 rounds when fully upgraded, making it the most heavily loadable shotgun. It is also the most modern-looking weapon in the whole game.
Trivia
Weapons

Melee (without ammo)
Handguns
Rifles
Shotguns

Assault Pump Shotgun
Sniper Rifles
Special