Weapons
Talk

0
228articles on
this wiki
Category page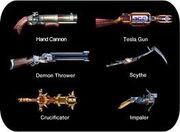 No cowboy could go on a journey without weapons, which is why they have them. They will aid you on your journey. It will ease yer' problem on wasting so much health on melee-ing. Plus, it would be less scarier to use ranged attacks than melee attacks on the supernatural creatures of the night.
Melee (without ammo)

Handguns

Rifles

Shotguns

Sniper Rifles

Special

Explosives

Others
Pages in category "Weapons"