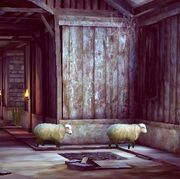 Cemetery Catacombs is a mission that takes place in Cemetery Catacombs. You can play this mission from Arizona or Oregon.
It has 32 rounds for you to complete. Each round offers you with a higher reward but it also may be twice as hard. After reaching the 8th to 10th round, there will be a Gargoyle statue after you begin, and this can pose a problem, as it is somewhat difficult to kill the demons rushing at you and dodge the Gargoyle at the same time. Witches, cultists, and nightwalkers are a common sight. Around round 10, you will have to activate switches to get to the next room. That can be somewhat hard, as Gargoyle statues will usually "guard" the switches.
Mission description
Edit
Intro

Sheriff says all sorts of unholy abominations have turned the catacombs into their home away from home. He's hopin' you can go down there and perform a little exorcism with your weapon of choice.

Outro

Seems like you're beginning to enjoy this whole demon-hunting endeavor.

Rounds

32 rounds

Type

Demon

Difficulty

Very easy to difficult

Enemies

Nightwalkers, Gargoyle Statues, White Witches, Red Witches, one Werewolf (one round only), and Cultists.

Objectives

Kill all the enemies in the Cemetery Catacombs.

Recommended weapons

Shotguns, Scythe, and Flamethrower.

Rewards
Achievements
Edit
| No. | Name | Description | Outro | Icon |
| --- | --- | --- | --- | --- |
| 29 | Herd Attack | Complete the 31st mission of the Cemetery Catacombs. | You wiped out the mighty horde of evil sheep! The world is a safer place now thanks to you. | |
| 34 | Professional Dungeon Crawler | Complete the last mission of the Cemetery Catacombs. | Descend to the darkest depths of the earth, where secret treasures and their unholy guardians await... | |
In the 31st round, you will fight sheep, Gargoyles, and at least one rattlesnake instead of demons and witches, and you will get the Herd Attack achievement after completing it.
The in-game music will change when the player is currently doing the mission. The music is similar to the one played when the player is in Guttermouth Gulch.
Ad blocker interference detected!
Wikia is a free-to-use site that makes money from advertising. We have a modified experience for viewers using ad blockers

Wikia is not accessible if you've made further modifications. Remove the custom ad blocker rule(s) and the page will load as expected.