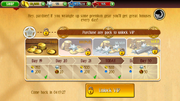 The Daily Reward is a feature that allows the player to earn rewards simply be visiting the game at a regular interval.
How to access & How it works
Edit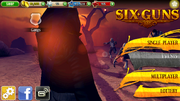 Daily Rewards can be claimed by tapping on the shining icon at the top-right corner of the screen at any time. After that, you would claim the rewards for the day that you were in the app. The icon would also stop glowing and the day would be marked with a green tick.
Also, if you did not claim the rewards for any of the day, you would not lose your streak count. The green tick would not be visible and you cannot claim any rewards you missed.
Different rewards would also be given to those who have different VIP status. Of course, Gold VIP members would receive much better rewards for each day.
As the number of days passed increases(up to a maximum of 30 days for each category), the rewards become better.
Possible rewards from the daily rewards include:
Free(Non-VIP players)
(Note: All daily rewards from the VIP Category would also receive rewards from the Free Category, on top of the additional rewards provided by the VIP Category)
Bronze(VIP)
Silver(VIP)
Gold(VIP)
Ad blocker interference detected!
Wikia is a free-to-use site that makes money from advertising. We have a modified experience for viewers using ad blockers

Wikia is not accessible if you've made further modifications. Remove the custom ad blocker rule(s) and the page will load as expected.