Dragon Revolver
Comments

3
155articles on
this wiki
| | | |
| --- | --- | --- |
| " | A very good revolver with excellent firepower. | " |
| | ~ In-game description | |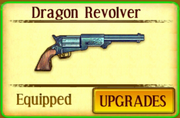 Statistics
Edit
Fire Rate: A bit slower than the Rusty Gun when fully upgraded, but that's not much of a problem.
Reload: Same as the Rusty Gun.
Ammo: 5 shots when not upgraded, 14 shots when fully upgraded.
Outlaws will use either this revolver or the Rusty Gun, but there are different stats with the outlaw's version.
Two can be seen in the sheriff's office in Socorro Town and one in the General Store, but it cannot be taken.
There is one laying in front of Freeman Fort, next to a dead man. It cannot be taken.
The dead man was probably ambushed by the same group who ambush you in the Freeman Fort mission.
It is very useful for killing Mexican bandits that have very useless weapons.
Civilians can be killed in one shot with it, but only with a headshot.
It seems to be based on a real life gun named the Colt Dragoon.
Melee (without ammo)
Revolvers
Rifles
Shotguns
Sniper Rifles
Special
Upcoming
Weapon cheat

Press the aiming button repeatedly while firing

Clothing