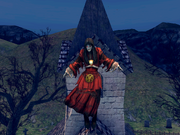 Fight The Demon is the last mission of the Stranger in Oregon.
The player goes to Camalada's Cemetery (by horse or on foot) and The Arch-Witch appears. The player (you) shoots the Arch-Witch until the time ends. Then the Arch-Witch unleashes 5 Red Witches against the player and flies to the tower. The player kills all the witches and shoots the Arch-Witch again until the time limit ends. This will go on and on until the player kills the Arch-Witch.
Mission description
Edit
Intro

Go to the Socorro cemetery and help the Stranger fight the powerful Red Witch.

Outro

SUCCESS!

Enemies

Objectives

Buy the Witch Impaler.
Kill the Arch-Witch with the Witch Impaler.
Help the Stranger.

Recommended weapons

Any special weapon.

Rewards
The mission intro clearly states to help the Exorcist fight the "powerful Red Witch", but that is actually a lie. The Exorcist does not show up anywhere. In fact, he never helps much in the other missions, either.