It does what its name says: it throws flames.

—In-game description
Flamethrower
is a special weapon. It costs 102
Sheriff Stars
(as of version 2.9.0). It can be obtained in the
Gold Bullet Chest Lottery
.
The Professor uses it when Buck Crosshaw fights him in the Defeat the Professor mission.
Statistics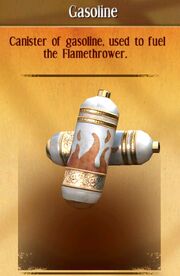 Damage: Medium-low, 10 HP when not upgraded and 16 HP when fully upgraded, but deadly, because of its high fire rate. Bonus 100% against Supernatural Foes, this weapon deals 32 HP damage on bodyshot and 48 HP damage on headshot to demons, what makes this a great weapon against them.
Range: Well it is a Flamethrower.
Fire Rate: Extremely high. The highest in all weapons.
Reload: Quite fast, but the player doesn't need to reload much with this weapon because of its ammo capacity.
Ammo: Very high, can store up to 200 rounds of Gasoline when fully upgraded.
Trivia
Gallery
Weapons

Melee (without ammo)
Handguns
Rifles
Shotguns
Sniper Rifles
Special