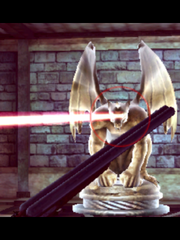 Gargoyle statues are one of the most deadly enemies in Six Guns. It can shoot either red or blue lasers (as shown on the picture to the right) out of its eyes which can rapidly burn you at an alarmingly fast rate. However, the Gargoyle statue can be instantly destroyed if it is shot in the back.
Statistics
Edit
Attack

Shoots red or blue laser beam, similiar to the Light Cannon.

Power

Weak (1% [extremely high fire rate])

Type

Laser/Rapid/Ranged/Light/Heavy

Difficulty

Easy to medium

Recommended weapons

Shotguns are the best.

Speed

Stiff, some of them can rotate to face the player(5%)

Usual locations
Achievements
Edit
| No. | Name | Description | Outro | Icon |
| --- | --- | --- | --- | --- |
| 55 | Eye of the Beholder | Kill 50 gargoyles. | Broken statues all over the place. | |
Characters and Enemies

Characters
Enemies
Ad blocker interference detected!
Wikia is a free-to-use site that makes money from advertising. We have a modified experience for viewers using ad blockers

Wikia is not accessible if you've made further modifications. Remove the custom ad blocker rule(s) and the page will load as expected.