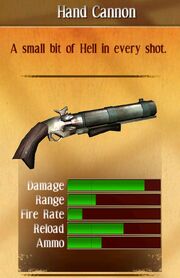 A small bit of Hell in every shot.

—In-game description
The
Hand Cannon
is one of the strongest shotguns in the game. It is costs 38
Sheriff Stars
, making it the second most expensive Sheriff Stars-based shotgun behind the
Frost Cannon
.
Statistics
Edit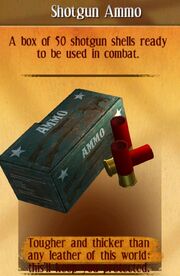 Damage: Highly lethal. Can kill a witch in just one hit at point-blank. It does about as much as a fully upgraded Triple-Barrel Terror.
Range: Much better than any other shotgun, but still. Don't snipe with this or you'll be in big trouble.
Fire Rate: The worst stat along with the ammo capacity. Very low fire-rate. However, due to the high damage, it's not a problem.
Reload: Reasonable reload time, considering the damage on each hit.
Ammo: 8 rounds when fully upgraded, the same as the Triple-Barrel Terror.
Despite the fact it is a shotgun, it does not have a bonus to Supernatural Foes.
Even though it has increased range, you still need to get close to do damage to enemies.
You can get this weapon in the Silver Bullet Chest.
It may be a modified Dagoon.
Weapons

Melee (without ammo)
Handguns
Rifles
Shotguns
Sniper Rifles
Special
Ad blocker interference detected!
Wikia is a free-to-use site that makes money from advertising. We have a modified experience for viewers using ad blockers

Wikia is not accessible if you've made further modifications. Remove the custom ad blocker rule(s) and the page will load as expected.