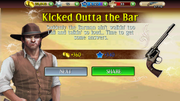 Kicked Outta the Bar is a storyline mission in Socorro Town, Oregon. It is unlocked at level 12.
Mission description
Edit
Intro

As soon I start asking questions, everyone in the joint jumps up and defends the booze slinger. Reckon if I shut 'em all down, the barman'll start talking.

Outro

Suddenly the Barman ain't walkin' too tall and talkin' so loud... Time to get some answers.

Objectives

Beat up the angry locals.
Defeat the bartender.

Rewards
Regular
Special

Boss
Storyline

Kicked Outta the Bar
Ad blocker interference detected!
Wikia is a free-to-use site that makes money from advertising. We have a modified experience for viewers using ad blockers

Wikia is not accessible if you've made further modifications. Remove the custom ad blocker rule(s) and the page will load as expected.