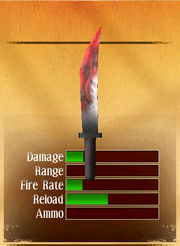 The Knife is a melee weapon that is used by Cultists and some bandits during Part 2 of the storyline.
It could be obtained by exploiting a glitch. However, this issue was patched.
It cannot be obtained even by hacking.
Trivia
Its edges are rather bloody.
The knife can easily kill you if you are not wary of cultists. It does about 60 damage.
Weapons

Melee (without ammo)
Handguns
Rifles
Shotguns
Sniper Rifles
Special