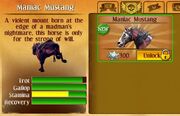 A violent mount born at the edge of a madman's nightmare, this horse is only for the strong of will.

—In-game description
The
Maniac Mustang
is
Madness
' choice of horse. As of version
2.7.0
, Bronze VIP must be unlocked, then Maniac Mustang will be available for 300
Sheriff Stars
. As of version
2.8.2
, it is available (without VIP) for 325 Sheriff Stars, making it the most expensive Sheriff Stars-based horse in the game.
It has a skull face, hence the Madness theme. Its skin looks raw; its muscles are visible. It has a hanging step on its saddle.
Statistics
Edit
Trot: Pretty fast, almost fills the gauge.
Gallop: Fast and filled.
Stamina: The highest of all horses.
Recovery: Also full and quick to recover, considering its stamina
Ad blocker interference detected!
Wikia is a free-to-use site that makes money from advertising. We have a modified experience for viewers using ad blockers

Wikia is not accessible if you've made further modifications. Remove the custom ad blocker rule(s) and the page will load as expected.