Missions and Quests are a gameplay mechanic in Six Guns. It is a good way to obtain experience points and gold coins. The more it is done, the more difficult it gets, so it is recommended that one purchases or equips better weapons and clothes.
Not to be confused with
quests
.
To activate a mission, tap it in the Map and tap "OK". To start a mission, you can tap the Fast Travel icon if you have selected it or go to the mission area.
Cemetery Catacombs
Edit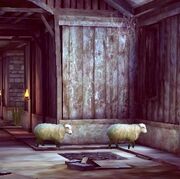 Intro

Sheriff says all sorts of unholy abominations have turned the catacombs into their home away from home. He's hopin' you can go down there and perform a little exorcism with your weapon of choice.

Outro

Seems like you're beginning to enjoy this whole demon-hunting endeavor.

Rounds

32 rounds

Type

Demon

Difficulty

Very easy to difficult.

Enemies

Nightwalkers, Gargoyle Statues, White Witches, Red Witches, one Werewolf (one round only), and Female Assassins.

Objectives

Kill all the enemies in the Cemetery Catacombs.

Recommended weapons

Shotguns and Flamethrower. Though it is good to have the Scythe to deal with Nightwalkers and Female Assassins.
In the 31st round, you will fight sheep, Gargoyle Statues, and at least one rattlesnake instead of demons and witches, and you will get the Herd Attack achievement after completing it.
Pond Dungeon
Edit
Intro

This goofy kid called you yellow and then challenged you to a scavenger hunt. He hid a bunch of artifacts in a cave and bet that you couldn't find them all in time. Feel like playin' along?

Outro

Turns out there were a bunch of monsters in that cave. But that didn't stop you!

Rounds

20 rounds

Type

Demon

Difficulty

Normal to difficult

Enemies

Objectives

Find the four artifacts before time runs out.

Recommended weapons

Shotguns, Crucificator, Flamethrower, and Railgun.
Special missions
Edit
These are the special missions that is included in the storyline update (1.0.7 iOS).
Ghosts of the Fallen
Edit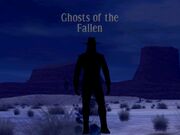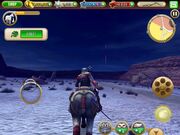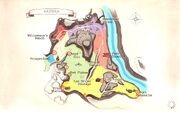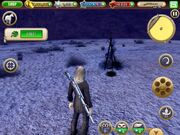 Ghosts of the Fallen is a secret mission. Visible at night, you can see an orange beam of light shooting up into the sky. Head to it and there will be a black campfire with black smoke similar to the smoke that demons dissipate on death emerging from below it. The first one is near Eagle-Eye, just below the cliff. It starts with an ominous, pitch black man resembling a Vampire Outlaw coming out from the ground. He is revealed to be the restless soul of a murdered gunslinger. He is invincible, but there are spirits above him that are not. Shoot them and he will die. There are 10 gunslinger souls that you have to fight, with each one more difficult than the last. He attacks by shooting spheres of blue, plasma-like energies, similar to the Witch. After you beat all ten rounds, you will get 3000 coins, 1650 experience points, and the Who You Gonna Call? achievement.
Note: The locations may not be the same for everyone, verification needed.
Intro

The Granger Gang's about to ride into town and perform a Number 83. That's when they shoot everything in sight. If you're up for shootin' back, folks around here would appreciate it.

Outro

Those fellas that challenged you are choking on dust right about now.

Rounds

1 round.

Type

Outlaw

Difficulty

Normal

Enemies

Objectives

Kill the outlaws.

Recommended weapons

Rusty Gun, as you will have only that weapon while this misssion.
First Piece
Edit
Intro

Find the first piece of the Generator Key. Check the map for its location

Outro

SUCCESS!

Enemies

Recommended weapons

Flamethrower, heavy single damage weapon (non-shot gun) otherwise. Do not use any high explosive weapons because they cannot do any damage against them.
Collectable items
Edit
To activate a collectable item quest, collect or destroy (Dreamcatchers only) an item. They are follows:
Hunting and herbalist
Edit
To activate a hunting/herbalist quest, talk to the person that provides that quest. They are follows:
Quests

Collectable items
Hunting/herbalist