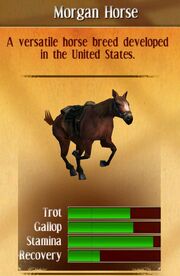 A versatile horse breed developed in the United States.

—In-game description
The
Morgan Horse
is the fourth available
horse
. It's a normal horse with decent stats. It will be unlocked at
level
7 and can be obtained in shop for 3,500
coins
.
Statistics
Edit
Trot: Much faster than the other horses on the page of the shop it is on. You could use this horse for a while and not buy another for some time.
Gallop: Fast speed at gallop.
Stamina: The gallop lasts for 4-5 seconds.
Recovery: It takes about 10 seconds to recharge the gallop, but that doesn't hinder getting around much, as the trot is very good too.
Ad blocker interference detected!
Wikia is a free-to-use site that makes money from advertising. We have a modified experience for viewers using ad blockers

Wikia is not accessible if you've made further modifications. Remove the custom ad blocker rule(s) and the page will load as expected.