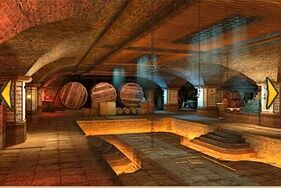 Bloodwine is a multiplayer map that was added in version 1.0.7 for iOS, and the smallest multiplayer map. It is entirely below ground, in a wine cellar with only barrels or the occasional support for cover. The Scythe is probably the weapon least suited for this map, since the other team can shoot you in the large open space, but it is also effective due to the map's size. There are no longer walls to hide in.
Ad blocker interference detected!
Wikia is a free-to-use site that makes money from advertising. We have a modified experience for viewers using ad blockers

Wikia is not accessible if you've made further modifications. Remove the custom ad blocker rule(s) and the page will load as expected.