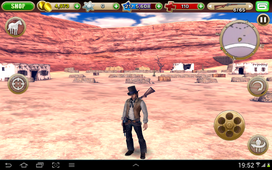 Outlaw Camp is an area that can be explored in single-player. It belongs to the notorious Granger Gang. It consists of 3 broken buildings, 2 tents, lots of crates and barrels, a Chicken God Totem, an Anti-Vampire Tonic, and two Dreamcatchers. It is located between Williamson's Ranch and the Abandoned Train. It is the place where you do the The Granger Gang mission and the second objective of the Not Guilty mission.
You can enter the tents, but not the houses.
If you climb on top of the covers, you are still able to call your horse.
On the covers near the building on the east side, you can slowly ride your horse to the edge until in glitches out in jumping position (constantly shaking). Call your horse while it's in sight multiple times and it will finally hop out of its position and automatically travel the direction it is facing. However, its legs lack movement. You can still climb onto your horse, but it would travel very slowly and you would rather ride it using the V-pad.
Ad blocker interference detected!
Wikia is a free-to-use site that makes money from advertising. We have a modified experience for viewers using ad blockers

Wikia is not accessible if you've made further modifications. Remove the custom ad blocker rule(s) and the page will load as expected.