A strange weapon that shoots a precise, demonic laser beam.

—In-game description
The
Railgun
is a
weapon
that shoots a laser-like beam. It costs 18
Sheriff Stars
, making it a relatively cheap weapon. It can also be obtained in the Bronze
Lottery
.
Statistics
Edit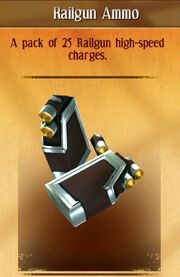 Damage: Quite powerful. Useful against strong-armored enemies like the White Witch.
Range: Can shoot enemies from a far distance away accurately but the shots travel slow, so it's not recommended for moving targets.
Fire Rate: Not a very good stat.
Reload: Reloads quite fast.
Ammo: 35 rounds when fully upgraded.
This weapon is used by Vampire Cowboys on later levels of the mission in Fort Ghost.
The Railgun is also used by Coward Mark.
In the Android trailer, it makes the same sound as a sniper rifle, however, in the iOS trailer, it makes the same sound as a Demon Thrower.
Like the Tesla Gun, moving targets are much harder to hit, especially in Multiplayer.
It fires a beam, unlike its real life counterpart Railgun, which fires a projectile at supersonic speeds, though this could be because the bullet is going so fast it gives the illusion of a beam.
It is decent in Single Player, making this weapon recommended for beginners. Also nice in low-level Multiplayer battles.
It is very similar to the Tesla Gun once fully upgraded.
Weapons

Melee (without ammo)
Handguns
Rifles
Shotguns
Sniper Rifles
Special
Ad blocker interference detected!
Wikia is a free-to-use site that makes money from advertising. We have a modified experience for viewers using ad blockers

Wikia is not accessible if you've made further modifications. Remove the custom ad blocker rule(s) and the page will load as expected.