Rumor says it was built by Hell's own armory. But that's just a rumor...

—In-game desciption
The
Railgun DCLXVI
is a rifle that was released in version
2.3.0
and costs 160
Sheriff Stars
. It fires red bursts at a high speed. It has the some similarities to its likely predecessor, the
Railgun
, but has a better rate of fire, speed and damage.
Statistics
Edit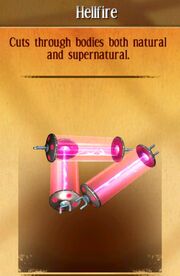 Damage: Quite strong, as it takes 120 HP normal hit and 180 HP critical hit when fully upgraded.
Range: Perfect for a rifle-based weapon. However, the accuracy decreases when firing at targets from long range.
Fire Rate: Very fast, much better then the ordinary Railgun.
Reload: Pretty good.
Ammo: Only 10 bullets when fully upgraded but has a good fire rate precision.
The value of the DCLXVI is often associated to the Devil or known as the "Mark of the Beast", 666.
The shots travel slowly, so it's hard to hit moving targets. But the fire rate kind of fixes it in close quarter combats.
Its accuracy decreases slightly at long range.
Even though the description of its ammo says this weapon cuts through both supernatural bodies and natural bodies, this weapon does not have a damage bonus to outlaws or demons.
Even though it is a rifle, it fires from the hip like a shotgun when standing still.
Weapons

Melee (without ammo)
Handguns
Rifles
Shotguns
Sniper Rifles
Special
Ad blocker interference detected!
Wikia is a free-to-use site that makes money from advertising. We have a modified experience for viewers using ad blockers

Wikia is not accessible if you've made further modifications. Remove the custom ad blocker rule(s) and the page will load as expected.