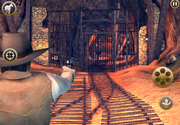 Sister Ingrid's Mine is a place where you can find a mission named the GATES OF HEEEEEEEEEELLLLLLLLLLLLL. It also has some minetracks, old buildings and some machines. The mine is south from Pancorbo's Route and east from the Witch Hack and Assassins' Creek. In the Mine area you can find one Anti-Vampire Tonic (in front of the entrance), a Chicken God Totem (in some ruins under the rock), and a Bandit's Map Piece (in the open building with bedrolls). In front of the house stands there is a florist that provides you the Helping the Florist mission.
Ad blocker interference detected!
Wikia is a free-to-use site that makes money from advertising. We have a modified experience for viewers using ad blockers

Wikia is not accessible if you've made further modifications. Remove the custom ad blocker rule(s) and the page will load as expected.