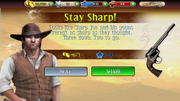 Stay Sharp! is a storyline mission in Aspa Hill in Arizona, where you will kill Sharp Joe. It is unlocked at level 18.
Mission description
Edit
Intro

Sharp Joe is hidin' out somewhere in Arizona. Find him and take him out.

Outro

Looks like Sharp Joe and his goons weren't as sharp as they thought. Three down. Two to go.

Waves

4 waves of bandits and Sharp Joe.

Type

Outlaw

Difficulty

Medium-hard

Enemies

Bandits

Objectives

Head over to the Hill of Kings.
Take down all the sharpshooters.
Kill Sharp Joe.

Recommended weapons

Sniper rifles.

Rewards
Ad blocker interference detected!
Wikia is a free-to-use site that makes money from advertising. We have a modified experience for viewers using ad blockers

Wikia is not accessible if you've made further modifications. Remove the custom ad blocker rule(s) and the page will load as expected.