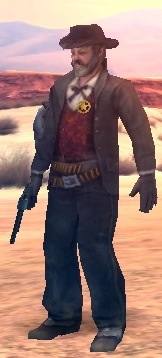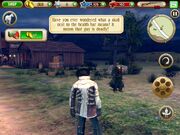 The Sheriff is a character. He stands in the front of Prosperidad. He asks you to help him defend the town during the tutorial and attack the Outlaw Camp. He disappears after you level up very high or attempt the second Exorcist mission. He uses either the Rusty Gun or Lawmaker Revolver, though he does not inflict any damage.
He reappears during the new Storyline mission series. Buck goes to him in Socorro Town during the second mission of the series. Then, he immediately puts him at gunpoint, curses him, and accuses him and his wife for murder. Apparently Buck's house was full of body parts. Immediately the town is attacked by Bandits, and Buck helps him fight them. He thanks Buck for his help and lets him go free. From then on he can be seen at Socorro until the Storyline mission, A Heavy Situation where Heavy Will runs at you with pickaxes. Finally, he will appear in the end of the Storyline after the completion of La Grande Finale, Part 2 mission.
Characters and Enemies

Characters
Enemies
Ad blocker interference detected!
Wikia is a free-to-use site that makes money from advertising. We have a modified experience for viewers using ad blockers

Wikia is not accessible if you've made further modifications. Remove the custom ad blocker rule(s) and the page will load as expected.