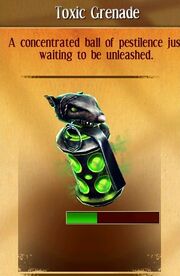 A concentrated ball of pestilence just waiting to be unleashed.

—In-game description
The
Toxic Grenade
is an explosive introduced in version
2.6.0
. It costs 3
Sheriff Stars
for 10 grenades.
It is a grenade. Once thrown, it has a one second countdown before it blows up. The radius of the grenade is small, but compensates with the high damage.
Statistics
Edit
Damage: High. It does more than 150 HP damage.
Range: Low, as it is thrown in an arc. To increase the range, throw it at a higher angle, but this in ineffective as the grenade may detonate in the air before it reaches your target.
The blast radius is smaller than most explosive weapons, with the exception of the Hand of Kisin.
This resembles the M84 Stun Grenade.
Explosives

Coins-based
Sheriff Stars-based

Toxic Grenade
Ad blocker interference detected!
Wikia is a free-to-use site that makes money from advertising. We have a modified experience for viewers using ad blockers

Wikia is not accessible if you've made further modifications. Remove the custom ad blocker rule(s) and the page will load as expected.